Having the "right" trailer for your specific boat is is one of the most often overlooked things when buying a boat or replacing an old trailer. Often the choice is limited because many marine outlets only supply a single brand of trailer.
At Reef Marine, we are authorised stockists for REDCO, TINKA, RUHLE and FLIP n EASY Trailers. We have a large range of trailers that range in size to suit the smallest 2.5m Tinnies, all the way up to the largest 8.0m Cruiser with electric brakes and breakaway systems.
We have a huge range of Trailer parts! Our Trailer Parts specialists can advise you on all your needs.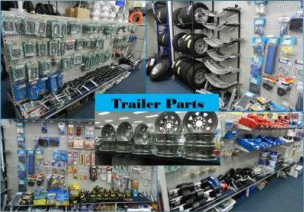 Our sales team is able to match up and optimise your trailer/boat combination to ensure you get years of trouble-free use. Our Service Centre can offer full maintenance which will keep your trailer serviceable, reduce downtime and extend the life of your trailer.
Please contact one of our experienced sales representatives to discuss your particular requirements or come in and inspect the many trailers we have in stock at Reef Marine. You may also like to click on the MAYFAIR MARINE and FLIP n EASY links below for our full range of Redco and Tinka trailers and parts and Flip n Easy trailers.
http://www.mayfairmarine.com.au/trailers/
http://www.flipneasy.com.au/index.html